Some of the most precious moments during parenthood are preserved in the form of memories. In the old days, parents used to keep photo albums and scrapbooks with clippings of their babies' most memorable moments. However, with the introduction of cameras and phones, most people rely on snapping photos to store these memories. Even so, a lot of the times parents miss the right moment even if only by a few seconds. It's a hit and miss for the most part.
Introducing Invidyo's Smart AI-Powered Baby Monitor! Did you know that Invidyo will capture all of your baby's precious moments? Yes, capture! What's more? Using Smart AI technology, the baby monitor will also record and store short 20-second long Event Recordings every time it detects audio or motion. These are stored in the app for perusal at a later time. Using the free standard subscription, parents can only view the live video feed generated. Access to Event Recordings commences after availing of a subscription package.
Since revisiting 20-second long Event Recordings is rather time-consuming and cumbersome, the Memory Clips feature allows you to stitch together a number of recordings to create a longer video. Once your recordings are stored in the app, you can combine them all in one single video to create a Memory Clip. For instance, if you celebrate your child's first birthday with an intimate party, you won't need to document the occasion with your phone or video camera. You can focus on enjoying the celebrations and Invidyo will film the whole day for you. At the end of the day, simply create Memory Clips out of the Event Recordings to collect and save forever.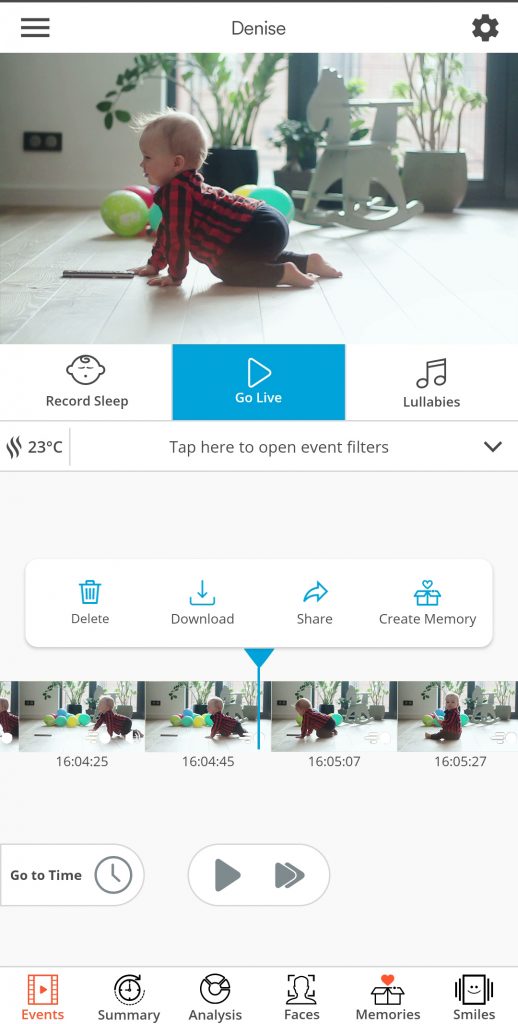 Once you create a Memory Clip from an Event Recording (or a series of them), the memory is now forever yours. These memories are here to stay. You can choose to tag your Memory Clips with reactions such as Heart or Laugh emojis. These "moods" make it much easier to filter through your memories at a later time. You can then choose to search for memories using their title or a mood (e.g. funny memories tagged with the Laugh reaction).
Invidyo allows its users to subscribe to three different packages, each of which comes with a set of perks and added features. The three packages are named Love, Care, and Well-Being. With subscription packages starting from as low as $2.99/month, Invidyo makes it affordable and easy to store your child's precious memories all in one place.
It is important to note that Event Recordings are automatically deleted after a certain period of time. In the Love subscription tier, Event Recordings are stored for 24 hours. The Care tier allows for 7 days of Event Recordings' storage while the Well-Being tier gives you 30 days. To collect timeless moments to store forever, simply transform your recordings into memories.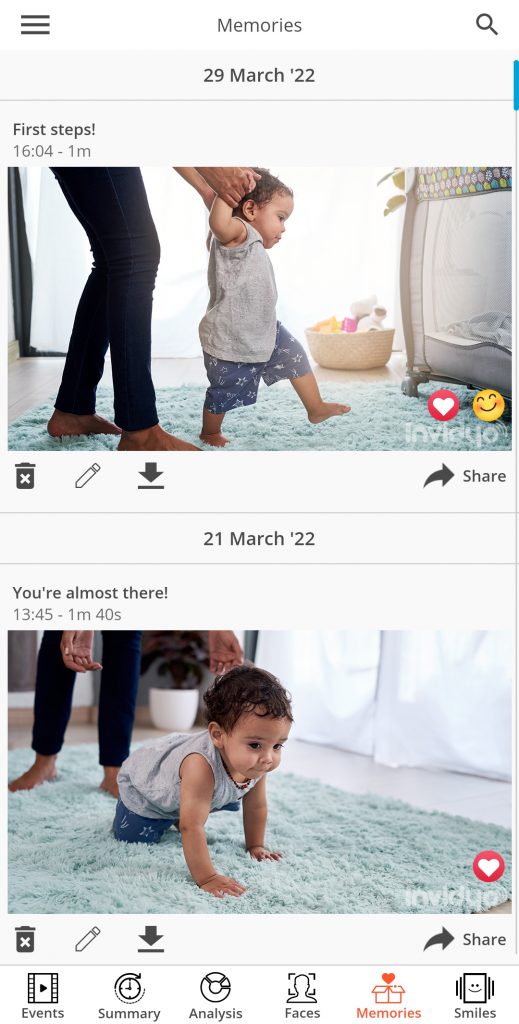 Additionally, each package gives parents a particular duration for Memory Clips. The Love subscription package allows 2 hours of Memory Clips' storage while the Care and Well-Being packages allow 10 hours and 50 hours of Memories. Parents can determine the duration of memories they wish to store based on the subscription tier. That means users can save up to 2, 10, or 50 hours of Memory Clips with each respective subscription package.
Gone are the days when you let the worry of missing your child's important milestones keep you from going about your day. You no longer need to keep your eyes on your child at all times. Invidyo will do that for you. It is the perfect addition to any nursery for busy parents. And let's face it! Every parent is a busy parent!
Besides, having all of your most prized memories in one place makes it easier to access, share, and download. Instead of going the extra mile to care for and store your child's memories, Invidyo helps keep them all in one place. Isn't that fantastic?
Have you used Invidyo memories yet?